Things to do with your partner at home
Discover 5 different and fun plans of things to do with your partner at home to avoid boredom.
In the current context, we have had to stay at home for a long period of time in order to fight boredom. This pandemic, apart from many other things, has forced us to spend a lot of time at home with our partner and to come up with couple plans and activities for two to make the days more enjoyable. What is really important in order to maintain a good coexistence and a healthy relationship. That's why, in this post we explain things to do with your partner at home, so you don't get bored and have a good time. Enjoying these moments together as a couple is essential to strengthen your bond and to take positive things out of this situation. There are activities for all tastes. Relaxing with a sofa and blanket; to bring out your artistic talents; mindfulness; to escape without leaving home and, the one we like the most, the gastronomic activity at home .
NETFLIX IN COUPLE: TOP 5 SERIES MARATHON
If what you want is to curl up on the couch and watch a good series, this is your plan. Ideal on days off to disconnect and comment for hours all the chapters and characters. Undoubtedly, it can become a good communicative activity in couple without having to make much effort. But for this plan to succeed, the series in question must be good. For this reason, we give you three alternatives that, in our opinion, will make it difficult for you to pause and go to sleep. The first one, Unorthodox, a great criticism of women's lack of freedom. Secondly, Sex Education, a hilarious look at the sexual experiences of young people and adults. Finally, Atypical, a series that shows and normalizes autism in a real and comical way in the daily life of an American family. If you are more into thrillers, go for How to Defend a Murderer, and if you prefer adventure and love, the idyllic Outlander. You will not be disappointed! It is one of those things to do with your partner at home easy and cool.
PAINTING A PICTURE AS A COUPLE
Do you feel like changing the decoration of your home? Now you can do it with your partner in an economical and fun way. We offer you several ideas for painting pictures in different styles as a couple. In addition to the new air at home, you will have a nice souvenir of something created by both of you. Prepare an area of the house, well covered so that nothing gets stained and get the material you need. Creativity and originality are served in this plan at home for couples that will fill your afternoon with laughter and color and, most importantly, with new experiences. You can choose between bright colors combined with white geometric shapes or opt for a modern restoration of classic family paintings. Or go for something more abstract with only two colors. Choosing colors, materials and design is a matter of two, so get to work to bring out your artistic talents.
Fancy a different and special dinner? Then it's time to treat yourself. At Gastroshows we have created #gastroshowsencasa. A new home experience created to escape to dinner without leaving home.
You may wonder how something like this works. Very easy. All you have to do is choose the day you want to receive our surprise boxes. In them you will find everything you need to plate and taste a tasting menu of 7 secret elaborations. Composed of 3 appetizers, 2 main courses and 2 desserts, it is ideal to share with your partner. In addition, you can accompany the menu with a pairing of 2 bottles of wine, the culmination of a very original dinner.
The plating part is the most fun. You will have to follow our instructions to create dish by dish. You don't have to worry because everything is very well explained. So get ready to become real chefs for a few hours and bring out your cooking side. The best part, the one of desgutación. Sharing moments and sensations tasting dish by dish is what makes this evening a unique evening. And all this without leaving home, enjoying the best company.
If you want to surprise, we make it easy for you. Choose here between Thursday, Friday or Saturday and we will deliver what you need to live a different night.
In addition, we adapt the menu to all types of allergies and/or intolerances and also for vegetarians. If you have any questions, you can write to Esther at esther@gastroshows.es and she will get back to you right away.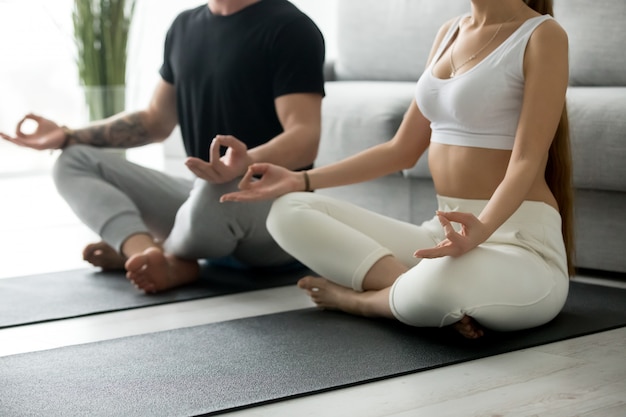 This is a of the favorite physical activities of many couples and no wonder. It is an activity that not only helpsreduce our stress levels, but also keeps us away from a sedentary lifestyle. It also improves our flexibility, reduces back pain and many other benefits.
If you and your partner are looking for an activity to do together, couples yoga may be right up your alley.
These
are some of the Yoga postures to practice as a couple. And here you have the instagram profiles to practice this millenary discipline.
In addition, the good thing about this sport is that it can be practiced at any time of the day. Either first thing in the morning to get active or in the evening after a work session to unwind. And above all, to spend more quality time together.
Another activity that will help you connect and have a good time together is viewing, sorting, printing and framing photos. It seems that, with the new technologies, we are losing the good habit of looking at photos, commenting and remembering unique moments. Now that we have to spend more time at home, it's a good time to pull out our cell phone film and look at all those memories together. Select the ones you like the most and print those photos. Creating spaces at home with photos is ideal for remembering special moments every day.
A couple's activity within everyone's reach that promises great memories and reflections that will allow you to have a good time together. In addition, you will certainly take advantage of the opportunity to do some data cleaning, which is never a bad thing. And you can also prepare a souvenir to give to friends or family.
These Michelin-starred restaurants in Barcelona have a lunch menu at a more affordable price, so don't miss this special date!
In this post you will find the best beach restaurants in Barcelona that you can not miss, take a look and enjoy the sun!
In this post you will find the best cocktail bars in Barcelona that you can't miss, take a look!